Episode 7 - "The Ofunehiki Shakes"
The Land and Sea Confront
Season 1, Episode 7

Vital statistics

Air date
November 14, 2013
Written by
Mari Okada
Directed by
Toshiya Shinohara

Episode guide

Previous
Next
Episode 6
Episode 8

The Ofunehiki Shakes is the 7th episode of the Nagi no Asu Kara anime. It aired on November 14, 2013.
Assisted by their friends, the children manage to rebuild the Ofunehiki. However, the real festival will not be held as the fishermen and the men from Shioshishio are at odds with each other. After helping the others to collect signatures for a petition to hold the festival again, Hikari fails to convince his father Tomori to comply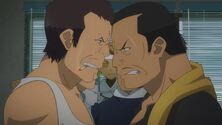 but he ends up taking part in the reunion between both parts arranged by him. Despite being impressed at first with the offering, it does not take long for both sides to reignite their old feuds and start fighting, a situation that gets even more hectic when Akari and Itaru enter the room together, to the point that the offering is destroyed once again by accident. After the failed meeting, Tomori attempts to

 once again persuade her to break up with Itaru but she had made her decision and prepares herself to leave her house in Shioshishio. Hikari decides to leave with her as well but Uroko uses his powers in attempt to stop them until Tomori asks him to let them go.  
Characters in Order of Appearance
Edit