Episode 6 - "Beyond Tomoebi"
The Tomoebi
Season 1, Episode 6

Vital statistics

Air date
November 7, 2013
Written by
Mari Okada
Directed by
Toshiya Shinohara

Episode guide

Previous
Next
Episode 5
Episode 7

Beyond The Blessing Day is the 6th episode of the Nagi no Asu Kara anime. It aired on November 7, 2013.
The children are taking swim classes and the boys get hyped upon Chisaki's body. Hikari and Tsumugu decide to have a small competition but Hikari ends up crushing his toenail and Manaka rushes in quickly to assist him, leaving Chisaki once again ashamed as once again Manaka stood up to him ahead of her, to the point of refusing to help taking him to the infirmary and Hikari gets frustrated not only for hurting himself, but for realizing that Tsumugu can swim faster than him at the surface.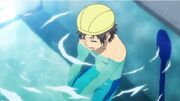 After classes, the children join together to rebuild the Ofunehiki, joined later by Miuna, Sayu and the rest of the class. However, Chisaki leaves earlier and Manaka fails to cheer her up, as she is still troubled by her feelings. On her way back home, Manaka meets Tsumugu and reminisces about the day when she and her friends failed to witness the Tomoebi, a rare underwater natural phenomenon because it took to long for her to join them. Back at Shioshishio, Manaka witness the Tomoebi starting again and manages to call Chisaki to watch it with her, and taking Tsumugu's advice, she speaks her mind without hesitating to reconcile with her, but regretting that they could not watch it together with the boys, unaware that they are watching it too while overhearing them.
Characters in Order of Appearance
Edit