Episode 13 - "Unreachable Fingertips"
Hikari waving the flag
Season 1, Episode 13

Vital statistics

Air date
December 26, 2013
Written by
Mari Okada
Directed by
Toshiya Shinohara

Episode guide

Previous
Next
Episode 12
Episode 14

The Fingertips That Can't Reach is the 13th episode of the Nagi no Asu Kara anime. It aired on December 26th, 2013 It is season 2 and has a new opening called "ebb and flow" and a new ending called "Mitsuba no Musubime"
After a brief talk with Tsumugu, Manaka returns home and meets Hikari. In the occasion, Hikari reaffirms his feelings for her and she claims that have something important to tell him after the Ofunehiki. On the day of the ceremony, the rest of Shioshihsio is about to hibernate when Hikari and his friends help in the fishermen take Akari to the sea god as planned when Uroko lights the way for them. Suddenly, the boats are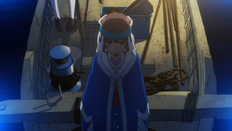 surrounded by whirlpools and both Akari and Tsumugu fall at the sea and are pulled down. While Chisaki and Kaname dive to rescue Tsumugu, Manaka rescues Akari and decides to offer herself instead. Hikari rescues his sister but fails to save Manaka as well. Meanwhile the boat carrying Kaname, Chisaki and Tsumugu makes a fast maneuver to avoid a pillar falling onto them, but Kaname falls in the occasion and his fate is uncertain, while a strange barrier covers the entire Shioshishio.